Who are the candidates the Infusion Academy is looking for?
Called to Long Term Missions




See value in Education & Mentoring




In Good Health




17+ years old




Single, Married & Married with Children, & Retirees




Citizens and Permanent Residents of the USA (currently)
What does Infusion Academy do for me?
An Accredited Education (Undergraduate Certificate in Christian Mission, A.A. Bible & Theology, B.A. Intercultural Studies)




Mentorship (Facilitated by Experience Missionaries and Indigenous Partners)




Practical Cross-cultural Ministry Experience in a Foreign Country




Career Missions placement in the foreign field with Global Infusion 




Or alternatively a resume that will be the envy of traditional university graduates.
When would I start Infusion Academy and how long would it last?
Arrive last weekend of July




Classes begin in the first week of August.




1 year Stateside (Knoxville, TN) – You will spend your first year in Knoxville, Tennessee training 




3 years Abroad (1 or more Global Infusion sites)



Where could I serve abroad while in Infusion Academy?
Currently, we have 5 international locations available to spend your three years of the International portion of the program.  Namely…

Peru




Guatemala




Philippines




Ukraine




Kenya




More to come
How much will Infusion Academy cost?
$149/Credit hour plus books and a personalized budget 




For Married Couples, Undergraduate Rates – Primary Candidate  $149/Credit, Spouse $75/Credit.




Graduate Rates  – Primary Candidate  $249/Credit, Spouse $138/Credit.




Additionally, a complete budget will be individualized for each candidate based upon target culture and ministry focus.




This budget encompasses everything they will need to participate in the program, such as various insurances, food, housing, transportation, tuition, books, etc.. An approved candidate will need to raise their budget by developing a base of financial partners.  We will teach candidates accepted into the Academy how to do this.



What are the academic requirements while in Infusion Academy?
Students must maintain, at minimum, a B average in their academic work and also they must undergo evaluations with their Infusion, Academy Leadership to make sure they are succeeding in thriving spiritually, mentally, physically and academically. 

Class Extension Requests – Class extensions are a rare allowance and must be requested in writing by filling out a form.  Classes must be completed by the end of the next break at the latest.  The class following an extended one will begin on schedule.  If two consecutive classes require extensions and are both in concurrently in the extension phase, leadership will review the candidates viability to continue in the program.

Where will I live and eat while at Infusion Academy?
Housing will be a part of the budget candidates will need to raise support for.

For single Candidates from outside the Knoxville area, Housing will be with various families affiliated with Global Infusion while in Knoxville.

For the international portion of the program, single candidates may find themselves in shared housing with missionaries or nationals and potentially sharing a room with fellow, same sex IA candidates.

Food also budgeted for and will depend on the location of housing.  Students must be to ready prepare their own meals.
What does my day look like and will I have free time while with Infusion Academy?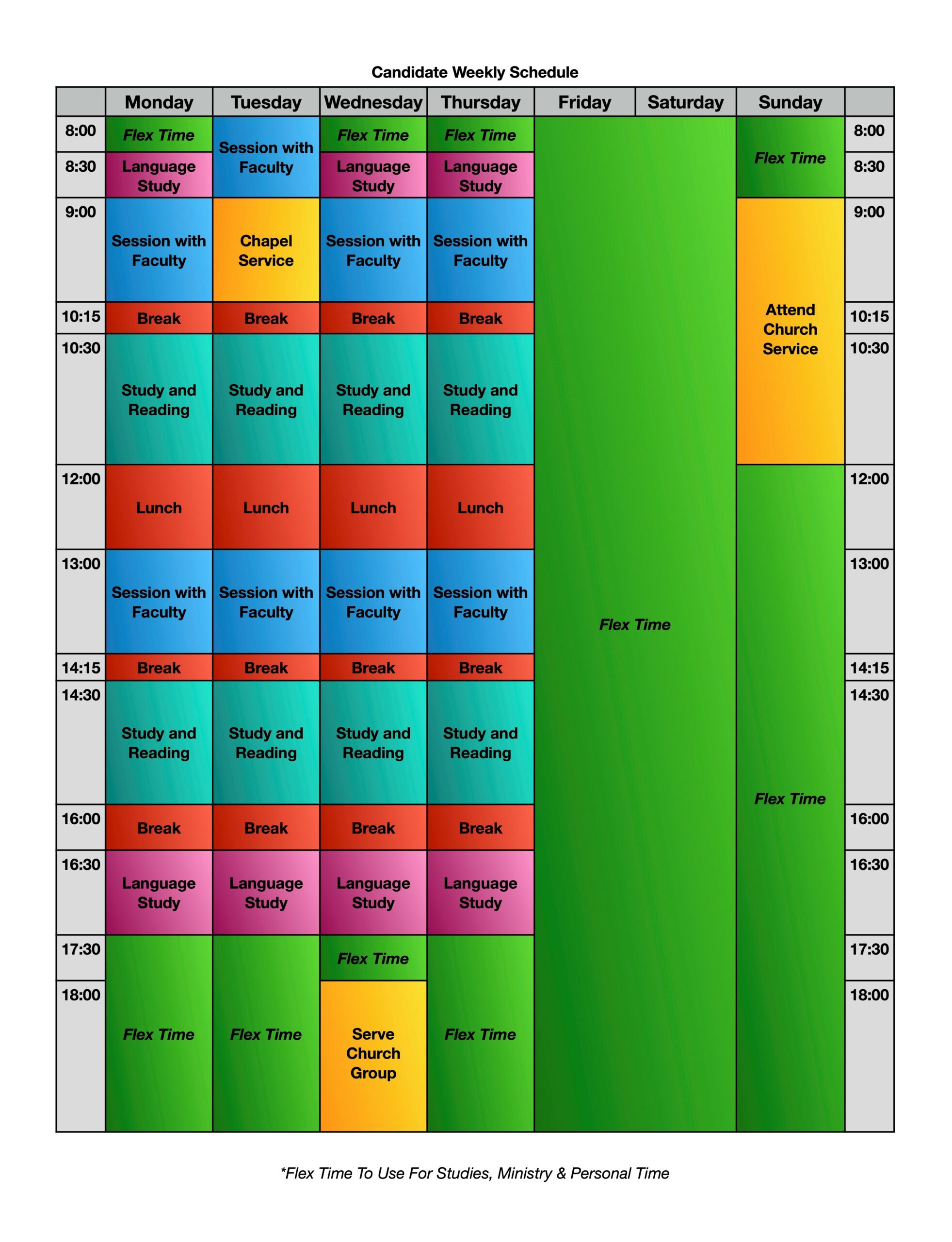 Can I have a job while at Infusion Academy?
All of our trainees are in school full-time and serving nearly full-time in ministry as well. Having a Job is not allowed. Because of this raising, financial support is critical and mandatory, to meet all financial needs.

What supplies will I need for Infusion Academy?
You will need clothes and personal care items.




A phone with internet.




A reliable vehicle that is insured and AAA Roadside Auto Service.




An iPad will be purchased out of the support you raise to be in the program.  All of your work will be able to be done with that.



What degrees can I earn or what degrees are offered?
Undergraduate Certificate Intercultural Studies (1 Yr)




A.A. In Bible &Theology (2 Yrs)




B.A. in Intercultural Studies (4 Yrs)




Master of Arts in Intercultural Studies or Master of Divinity (6 or 7 Yrs)




Doctor of Ministry (9-10 Yrs)



Can I transfer from one country to another while serving abroad with Infusion Academy?

Transferring from one country to another is possible.  

Transferring to a different location allows a broader perspective into missions as a whole. 

Maintaining global residency in one of our locations will provide a much deeper understanding and effectiveness in that country and culture.
What if I have a degree already?
An Individual assessment of every candidates experience and academic record/achievements will be made, so transfer credits are possible.

For those with a degree but no academic preparations in missions or theology, a personalized academic track will be created.  This track may be lead to as little as an Undergraduate Certificate in Christian Mission, or as much as a Doctorate in Ministry.
What if I don't complete the program with Infusion Academy?
You can transfer some or all of your credits to another school.  How many credits will transfer will depend on where you are transferring them and into what degree program are you transferring into.
Who provides the accreditation for the courses in the Infusion Academy?
Our Partner School is Global University.  Their Curriculum is designed for self directed correspondence.  Other than a two exceptions, one at the beginning and one at the end of a candidates studies with Infusion Academy, the Candidates and Global Residents will be taking and completing one course per month.  It is a hyper focused program enabling rapid acquisition of the course material.  Global University is fully accredited by the Higher Learning Commission (https://www.hlcommission.org/)  and is listed as an accredited institution on the United States Department of Education website (http://ope.ed.gov/accreditation/Search.aspx).
What social activities will be available to me while in the Infusion Academy?
Whether in Knoxville or on the mission field, there will be many opportunities to participate in social activities.  Some of these activities will be with peers, colleagues, or nationals and some with short term team members sent by Global Infusion.
Are there Scholarships available?
Currently we do not have any scholarships available.
Can I get student loans to help pay for the program?
No.  We are philosophically opposed to student loans and believe with great conviction that is a life and a calling altering detriment to aspiring missionaries that keep a vast number of missionaries from every reaching the foreign field. No participants are allowed to fund their training with debt but must instead raise financial support to be in the program.  Though this is daunting to some, we help facilitate training in this area that is highly successful.
What kind of supervision does Infusion Academy provide for trainees?
Global Infusion & Infusion Academy provide supervision of all Candidates and Global Residents through personal and local interaction as well as telecommunications.  Supervision is provided by not only Global Infusion and Infusion Academy staff and missionaries but also their national partners in host countries.

What does Infusion Academy do to keep their trainees safe?
The Safety of Global Infusion Missionaries, Infusion Academy Candidates and Global Residents is at the utmost concern and we take every reasonable precaution to avoid unnecessary risks.  However, it must be noted, risks are inherent in serving Christ, and most especially at doing missionary work, outside the United States as an American Citizen or Citizen of a Western Country.  Global Infusion and Infusion Academy are highly insured, including Kidnap and Ransom insurance in the event of a worst case scenario.
Do I need transportation while in the Infusion Academy?
It is the responsibility of each candidate to come to the domestic portion of the training program in Knoxville, Tn with dependable transportation that they can use for the entirety of the stateside portion of the program.

It is also the responsibility of each candidate to acquire and maintain AAA roadside service for themselves for the entirety of the stateside portion of the program.
Do I need Health Insurance?
It is the responsibility of each candidate to get and maintain health insurance for the duration of the time they are in the stateside portion of the program.

When the candidates leave for the International portion of the program they will be put on the International Health Insurance plan through Global Infusion.

Can International students attend Infusion Academy?
We do not currently accept international candidates but we hope to expand our opportunity to them in the future.
Can families apply to Infusion Academy?
Families are welcome to apply.  Both spouses need to be fully committed to the process.  This doesn't mean that both spouses must complete all academic portions of the training.  However there is a minimum amount of education/training that will be required of any spouse.  Namely, at minimum,  they will be required to finish the Undergraduate Certificate in Christian Mission as well as applicable language training. Any children in the home will also be required to participate in applicable language training.  The tuition rate for the second spouse will be discounted 50%.
Are there chapel services at Infusion Academy?
Your content goes here. Edit or remove this text inline or in the module Content settings. You can also style every aspect of this content in th
There is a weekly chapel service that all candidates must attend while stateside.

Internationally, students will be able to watch our chapel streamed live or recorded.

Additionally, all students must attend weekly services in the local partner churches while serving abroad. 
Do I have to attend church while attending Infusion Academy?
All Candidates must attend a local church service weekly.
What sort of practical ministry experience will I get through Infusion Academy?
All Candidates must volunteer in an approved, local ministry.  They must contribute, at minimum, 20 hours per month in the selected ministry while stateside and 60+ hours per month while International.
Who are the staff at Infusion Academy?
All of the Staff at Infusion Academy are affiliated with Global Infusion.  They are all experience in cross-cultural ministry and most have graduate or post graduate degrees.