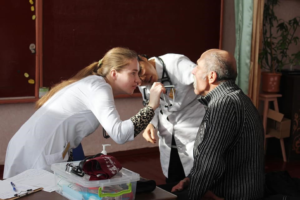 Being sick is the worst.  All your plans for the day or for the week, all disappear.  And if it's anything more than a cold, and it lasts longer, life can come to a grinding halt and your world gets turned upside down.
If you have ever endured a debilitating sickness, an accident, a surgery, you have probably had a life-altering experience.  Things are different for you, both during the time you are ill, and after recovery—if you even recover fully.  The good news, is that it is 2021. We are all currently living in an age of the most advanced medical procedures and care. However, not everyone has access to it all. In fact, most places GI goes with our mission teams and where we send our missionaries, there are people who have absolutely no access to medical help. Believe it or not, we have encountered elderly men and women who have never seen a doctor.
In the Gospels, we read how Jesus intentionally fellowships with sinners and tax collectors. The Pharisees begin to chastise Him openly for doing so. Listen to how Jesus responds to these malicious accusations:
When Jesus heard it, He said to them, "Those who are well have no need of a physician, but those who are sick. I did not come to call the righteous, but sinners, to repentance."  Mark 2:17 (NKJV)
In the next few weeks, we are launching out 2 medical mission teams: one to Guatemala, and one to Ukraine.
Like Jesus, we intentionally want to find and treat the sick.  While health care is only part of our planned outreach, this opens the door for us to minister to them, and introduce them to the Great Physician. The One who can heal not only their bodies, but their broken hearts and spirits. Pray for our teams going out in June. If you are able to support one of these medical outreaches, 100% of your donation will go towards medicine.
Jonathan Haward, President & Founder
Global Infusion