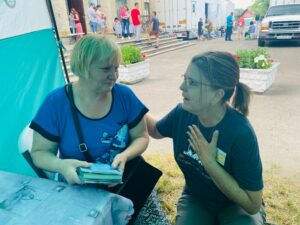 Jesus was always among the people. Even though He was the Son of God, the Savior to all humanity, one with the Father and the Spirit, He spent nearly every waking minute of His life on Earth with people. Most of the people He encountered were sick. Some were sick in body, some were sick mentally and emotionally, and many were sick spiritually, even to the point of demonic possession.
Jesus is many things. One of which is being our Healer: "Jesus went through all the towns and villages, teaching in their synagogues, proclaiming the good news of the kingdom and healing every disease and sickness." Matthew 9:35 (NIV).
If life is but a vapor, why did Jesus even bother to heal people? Why not just let us muscle through about 80 years on this planet, and deal with whatever pain we have to deal with, then spend the healthy eternity with Him that He promised?
Why? Because Jesus loves us. From our smallest issue, to our largest, Jesus cares. And when He saw it in the flesh, and lived among us, the Healer was heartbroken.
There is a world around us that is sick. They need healing. Jesus left Heaven to physically come to us to be the one to heal us from every infirmity, including the sickness of our souls. This summer, Global Infusion has sent out multiple medical teams that treated hundreds of people, and saw many come to the Lord. Why? Because Jesus loves us, and He commanded us to go and do the same.
Jonathan Haward, President & Founder