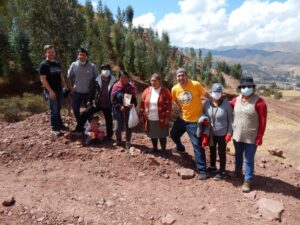 Do you love mountains? Seeing them in pictures, taking hikes, or maybe even climbing one? From a distance, they look beautiful; up close, they look impressive; when you begin to travel to the top, whether by vehicle or on foot, you begin to realize their magnitude. Mountains are no joke, the peaks of some go through clouds!
Recently, one of our GI mission teams was in Peru. One of our longterm missionaries, Chris Penner, is stationed in Cusco, located in the Andes Mountains. He and our Pastor there are diligently working on multiple church plants in the remote villages. Fun fact about Cusco—when you land by plane, you are already over 11,000 feet. Most villages we travel to, are higher—some are over 14,000 feet.
If you have not traveled with GI to Peru, you're missing out on one of the most beautiful areas of the world. Yet in this picturesque region, there are many people without Jesus. They are hard to reach both physically and spiritually—the enemy has blinded many with animistic religions and brought confusion about who God really is. As we were there, handing out food to those who have suffered greatly over the last year, I was reminded of this verse in Isaiah, as we were quite literally ascending through mountains in vehicles and on foot to bring the Gospel: "How beautiful on the mountains are the feet of those who bring good news, who proclaim peace, who bring good tidings, who proclaim salvation." Isaiah 52:7
Pray for our missionary, Chris, in Peru, our 3 village church-plants, and that God would send us more laborers to the harvest field. Are you called to South America? Will you pray? Will you give? Will you go?
Jonathan Haward, President & Founder
Global Infusion